Note from John: This was written on Sunday, February 4th, 2018. The pictures were taken that evening. You can see the original post on Facebook here.
---
Dear Friend,
Have you ever had the opportunity to get some closure and heal from your past, only to blow it, because: you were too scared, not open to doing the work, or unprepared for that next step?
If you're open, I implore you to be vulnerable with me for a few minutes and take a journey.
If your heart has been closed, or is currently cold, then I beg you, PLEASE READ THIS.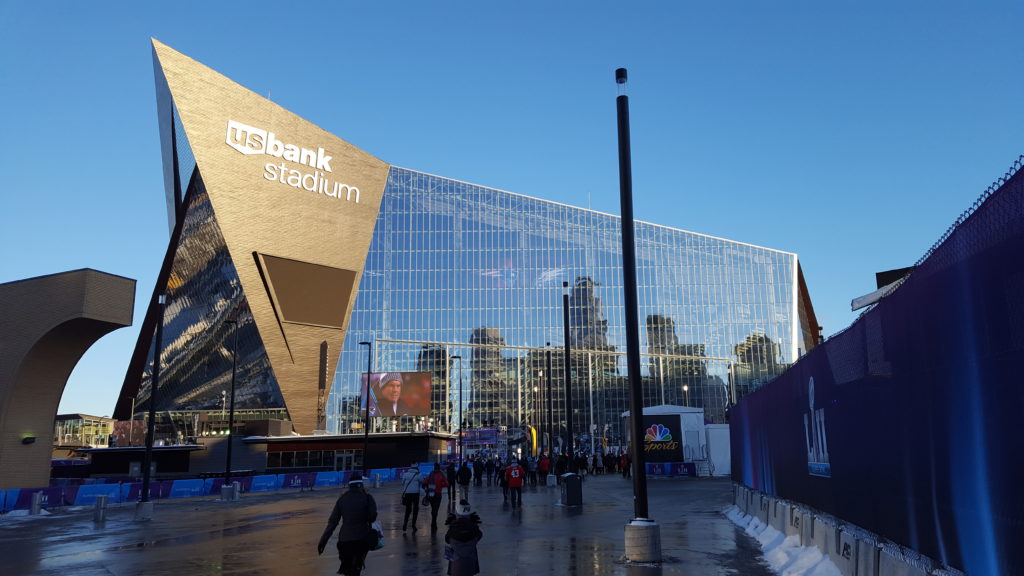 Today is one of those; reason-for-living, life-altering, reaching "Mecca" – type of days for me.
The Super Bowl is a lot of things, to a lot of people.
For football fans, it's the greatest day of the year.
For many others, it's a huge, annoying, waste of; time, money and resources.
And you know what?
Neither opinion is wrong, because we are all entitled to feel exactly what we feel, without judgement.
Not that you should've noticed, but I've been less active on social media the last few months and I believe it all ties together if you bear with me.
I've started a prolotherapy injection protocol for a shoulder injury that was over 20 years old and it is causing a lot of frustrating stuff to crop up that I have to work through, and all while being grounded from lifting weights, which I love, because it's that place that I can 'get some energy out' and feel normal.
I've had some tell me I'm a little; quiet, snappy (standoffish?), and less 'John' like, the last couple months.
I had someone tell me they loved what I was writing, they just couldn't relate, but wanted me to know it.
And I appreciate the feedback, because I am growing in many ways, which is exactly what I want and nobody is always 100% aware of everything they do, so it stands to reason that I am human…barely, but yes, human no doubt.
Being an introvert, I went inside and explored, combing the depths of my life to see exactly why I was not 'acting like John,' and realizing that what I'm feeling is very much of a breaking open, breaking away type transition.
Like a caterpillar to a butterfly, or an eaglet into an Eagle 😉
When folks are used to you one way, change rattles that.
Many of you read the article I wrote back in October about my brother, my story and told me I should write more, asked me too.
That article was cathartic, and such a huge release of emotion that it makes sense to me, anyway, that was a big catalyst for this transition.
Letting go of one thing, opening to another and stepping into my comfortable skin.
Taking risks, traveling, loving, and living, as if I only get to do it once.
It means I might seem a little 'to the left' where maybe before, I was 'to the right' and eventually, I'll find my sweet spot.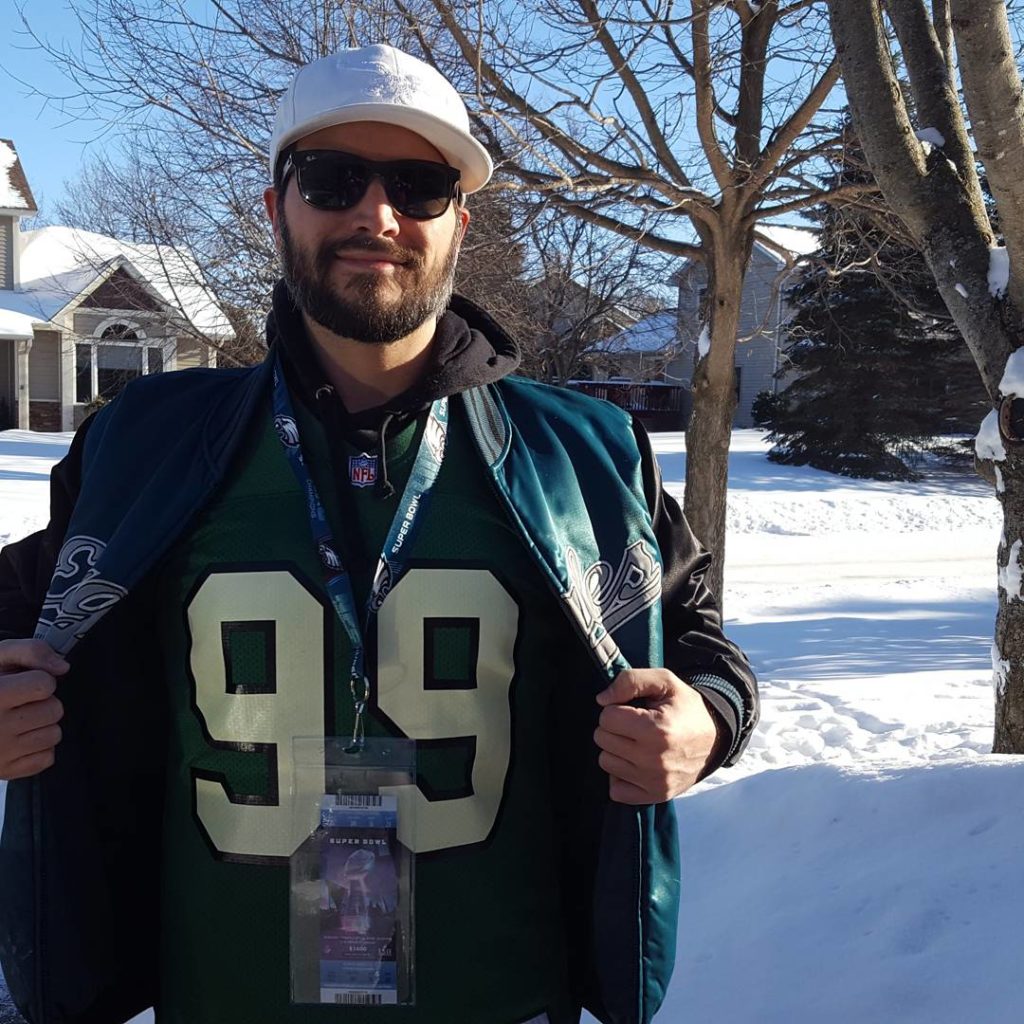 And so now, for me, this Super Bowl is the equivalent of 'heaven on earth,' an unequivocal utopia.
You see, my beloved Philadelphia Eagles are playing for the opportunity to bring home their first Vince Lombardi trophy, given annually to the Super Bowl winner.
This is a big deal to those who are Eagles fans because we have never seen our team win the big game, let alone had the opportunity to experience that oh-so coveted parade down Broad Street, where the city, presumably still standing, can rejoice in our Eagles Championship Victory.
We love all the sports in Philly, but the Eagles are the top.
The Eagles have gone to the Super Bowl 3 times: 1980-81 season (before I was born), 2004-05 season (when I was poorer, in my twenties) and this season, 2017-18.
13 years ago, my brother (who liked the Eagles, but loved the Buccaneers), my cousin (who adored the Eagles), some other friends and I, DESPERATELY wanted to go to the game.
Then we got inducted into the real world…with ticket prices.
And so, thinking out loud, we said 'let's go drive down anyway and be a part of it.
'Seeing as how I, at 23 tender years of age, was to be entrusted with the lives of a few good men who were way younger, we realized, it was in our best interest to forgo the trip and party at home.
And, to be honest…I was terrified of being around all those people, so far from home, that I prematurely sabotaged any chance at going anyway with my internal limiting beliefs that 'I was unworthy of going.'
Plus, between all of us, we couldn't rub 2 nickels together and make a dime, so….you get the point.
We figured, we'll watch the birds win from home, go party downtown and continue doing it for years to come.
Welp…the Eagles lost and it really hurt, however, we vowed if they ever get back again, we would be there.
Now, fast forward back to the present, tonight is the Super Bowl and our Philadelphia Eagles are playing!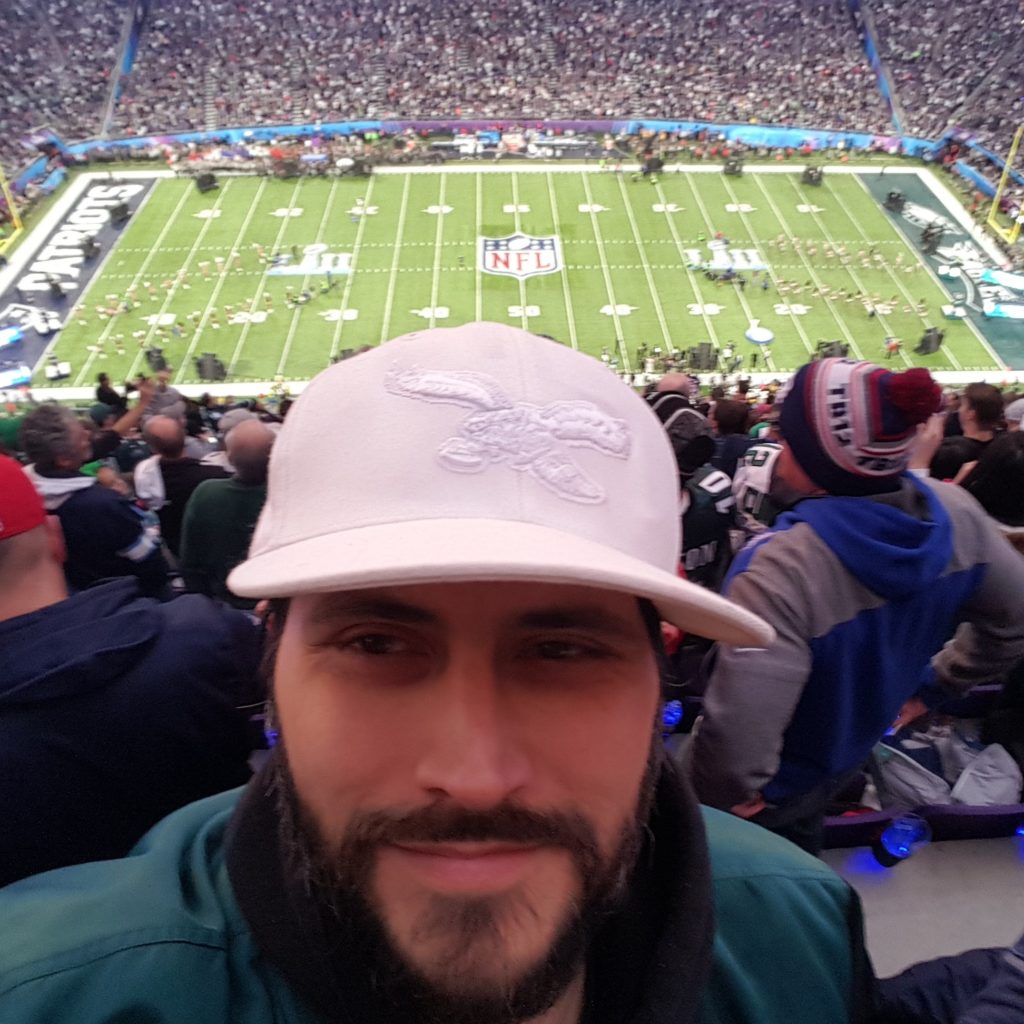 My brother, my cousin and some of the others that I love dearly, are gone, never to have the opportunity to watch a game of this magnitude and celebrate with their families, again.
Playing or watching football, and the Super Bowl, are very important to; me, many family members and friends.
Football is something that transcends a kids game for us.
It brought us together during bad times, helped us rejoice in good times and showed us that it's metaphor for life, because the truth is, nobody gets to where they are without help, it takes a village, or team, to reach the highest potential.
People working towards a common goal is the most powerful force in the world, just look how it's changed our world…for, better, or worse.
And even though you may loathe; the hype, the game, the obnoxiously drunk slovenly fans, the pretentious parties, the stupid commercials and the temporary inconvenience, remember that sports is something we all can appreciate, for our own reasons.
At one of the lowest times in America's history, after September 11th, 2001, what was something that allowed us to, for a moment, enjoy a reprieve outside the atrocities in New York city?
A thing that helped restore a minor sense of normalcy?
For many, it was sports, where you saw people of all shapes, sizes, colors, backgrounds, faiths and love or loathe of sports, put all that aside and bond, as Americans, but more importantly, as red blooded HUMANS (which is the common bond in all of us).
It wasn't about the games, just like the Olympics isn't t about the medals.
It's about way more.
Another place where pride in our teams and countries can stop petty squabbles, even temporarily.
Admit it.
You; cheer for, root for, or follow something that means everything to you, and maybe it's not sports, which is awesome!
Food. Theater. Beer. Comic Books. Super Heroes. Video Games. Flowers. Royals. Wine. Teletubbies. Puppies. Music. Reading. Harry Potter. Writing. The Fonz. Travel. Bugs.Disney. Art. Cigars. Guns. Sex. Bird-watching. Knitting. Oprah. Cross-fit. Lobotomy. Tiddlywinks.
Get it?
We all have stuff we love, that nobody usually gets (except sex, I get why that would be important…) and still we persist, because we are who we are.
Life is too short to not get dressed up as a wookie, go to comicon and kill it at the freaking costume contest!!!
Am I right?
Whatever your Super Bowl is, enjoy it, the same way football fans enjoy today.
And here's my hope for you: When you have your moment, I want it to be everything you hoped it could be and you own it, because you weren't; scared, unprepared or closed off – rather, you 'knocked it out of the fucking park!'
You deserve to celebrate with your hair on fire, pour every last bit of emotion into your 'thing' and get to that point where you know that the experience you just had was so good, that if you died tomorrow, you'd die having known you lived!
That's why I'm sharing this with you.
So in a few years, when my nephew is old enough to have seen a couple Eagles Super Bowl championships, he will turn to me and say: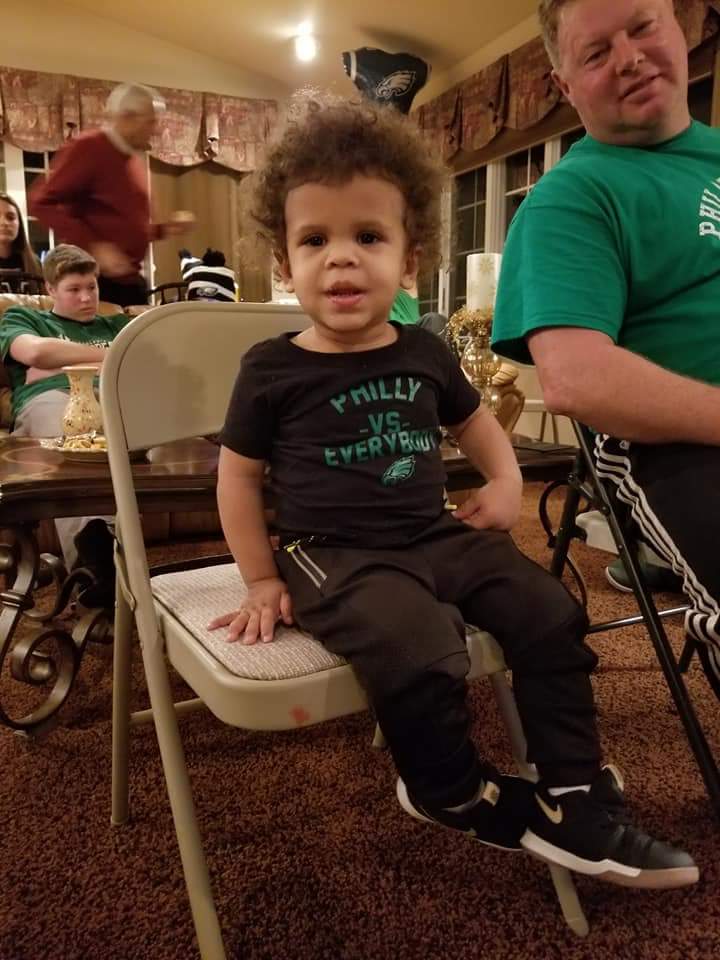 Maclin: "Hey Unc, where were you when the Eagles won their 1st Super Bowl?"
Me: "Nephew, I was in US Bank Stadium, Section 341, Row 16, Seat 20, at the 50 yard line, behind the Eagles bench!"
Maclin: "Wow, you really had their back, huh?"
Me: "Literally buddy, it was epic!"
Maclin: "How much did it cost Unc?"
Me: "Everyone asks that buddy, and in the words of the great Ace Ventura: It's none of your damn business Mac, and I'll Thank you to stay out of my personal business."
Maclin: (laughing hysterically) "You're a weird guy Unc!"
Me: (smiles)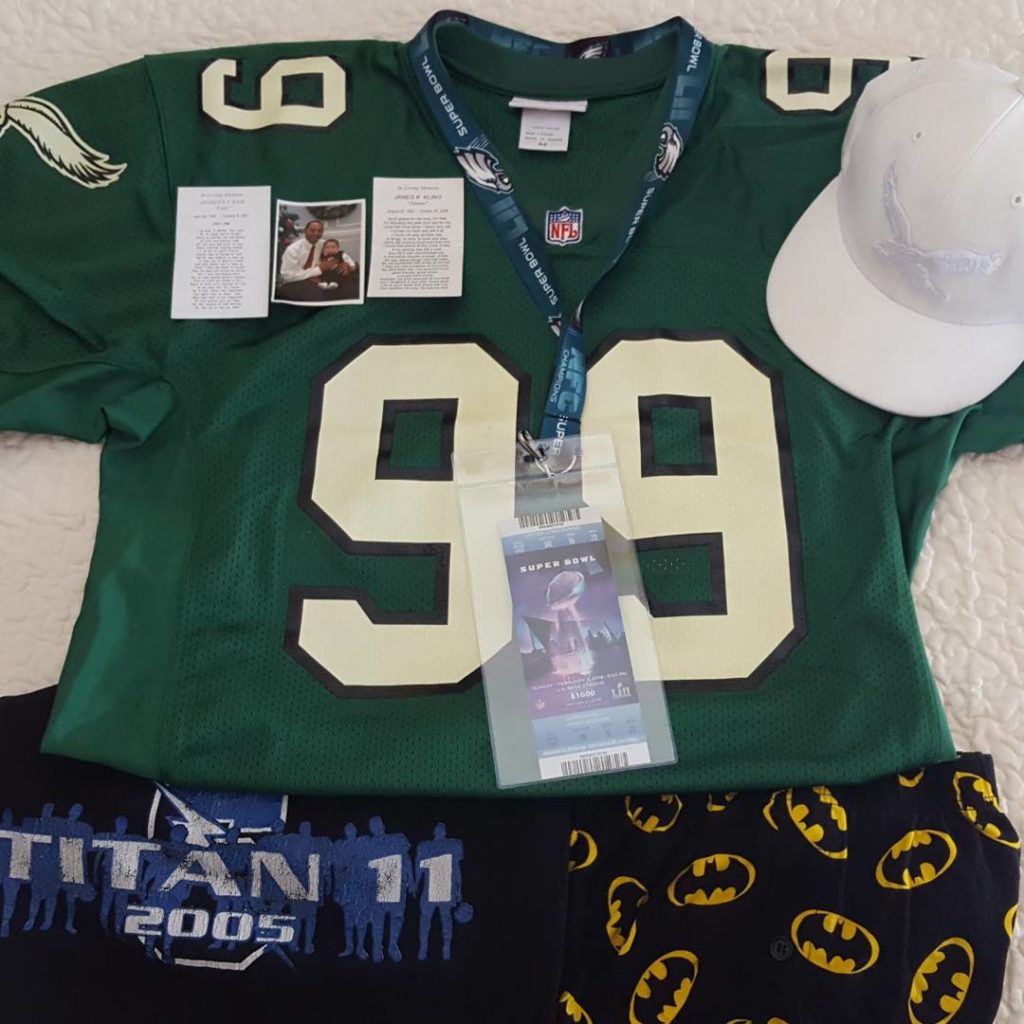 Maclin: "So Unc, what did you wear?"
Me: "I wore my Gameday Uniform nephew:
 -> Throwback Mitchell and Ness 1991 Jerome Brown Jersey that your Mom and Grambo got me.
 -> All white Throwback Eagles cap that your uncle Tony gave me.
 -> A black CB South Titan 11 shirt that was your Uncle Tony's and Uncle Darrell S. Johnson Darrell S. Jr. Johnson's team they played on.
 -> Batman underwear, because you've never seen me in the same room as Batman.
-> And the biggest heart of anyone their because your Uncle James Kling was with me.
Maclin: "I bet you were the best dressed guy there Unc, did you take anyone?"
Me: "I was buddy, I was, and yes, I took your; Uncle Tony, Uncle Jim, Uncle Darrell and everyone I've ever loved or known, who bleeds Eagles green as much our city, nephew. They were all with me in spirit."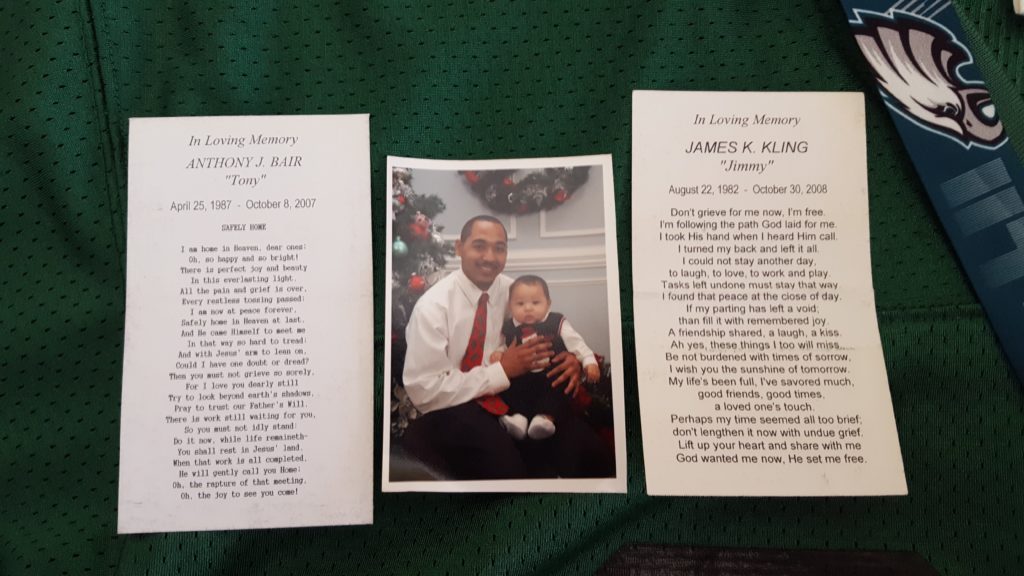 Maclin: "I see why it means so much to you Unc, did it make you happy?"
Me: "No nephew, I was already happy, however, if I died tomorrow, I'd die the happiest man knowing I had the coolest nephew, that I loved dearly and the most amazing life that I squeezed every last ounce of joy from, by taking the risk of living it. I Love you Maclin."
Maclin: "I Love you back Unc."
(hug)
</scene>